I had a lovely 'discussion' with a FB denizen yesterday regarding gun safety in class. A person indicated they were concealed carrying (they had an out of state permit) through the entirety of the CPL class they took (not a K&B class).
Since there is a strict "No ammo in the classroom" rule, this would have been a huge NO. A guy who we will aptly name Fudd enters the conversation, decrying that I am an anti-gun liberal doing nothing more than creating a pistol-free zone because I do not believe in the 2A. Those that know me know there is really nothing further from the truth.
The reasons for the no ammo in the classroom are this: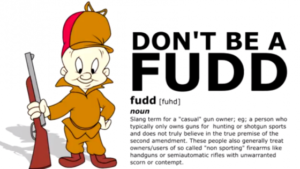 1) The NRA says so, and this is an NRA class. When one agrees to instruct something and effectively enters a contract, one upholds his word to do so, not just the parts they like.
2) (more importantly) In order for a firearm to discharge, 3 things are needed. A firearm, ammunition, and trigger actuation. To ENSURE a safe training environment where students and instructor may be handling firearms AND where dry-fire trigger actuation may occur, the means to make the situation safe is simply deny the presence of live ammunition.
Many things are taught in our CPL class, including DA/SA trigger pull, trigger reset, and other factors that require dry fire.
In a similar vein, if we were teaching a reloading class, and ammo must be present to address the coursework, the firearm would be what was denied in the classroom.
Fudd insisted that separating ammunition from the training area where firearms and trigger actuation was occurring was anti-2A. It is not. It is establishing a safe environment for all involved.