The world is watching the Coronavirus spread with great concern. Prior to that, it was Ebola, or HIV, or whooping cough. In our increasingly interconnected world, disease can spread quickly and over great area. The Coronavirus has hit Wuhan, China hard. One of China's major trade centers is effectively shut down, with industrial implications for the entire world.
Here at home, Michigan USA, the concern has become real. Being the cradle of the US auto industry and much of that industry having ties to China, it is not a stretch to realize it will affect our economy significantly. How can we, as emergency preparedness practitioners, take steps to ensure our family remains safe?
Understanding how disease is transmitted (routes of transmission)
There are 3 main types of disease transmission. Setting up a home quarantine room will need to ensure that all forms of pathogen transmission are addressed.
Aerosol
This form of transmission is when the pathogen are suspended in the air, either through vaporous liquid droplets (like coughing and sneezing) or particulates (like dust or pollutants). The pathogen is then inhaled, absorbed by the recipient (through eye or mouth deposit) or deposited onto a surface and later touched. Most pathogens do not survive long in an aerosol state, and close proximity to the infected person is required for transmission. Coughing, sneezing, and exhaling are all forms of initiating aerosol transmission.
The COVID-19 virus has been found to be transmissible through aerosol.
Direct contact
Transmission is achieved when contact is made with the pathogen. The pathogen is usually introduced by contact through skin, blood, mucous membranes, saliva, etc.
Oral/Consumption
Pathogens are often introduced through food and water. Unclean practices like failure to wash hands can introduction fecal and urine particles onto food which sustain the pathogen long enough for transmission.
There are other subtypes of these transmissions. Venereal is direct contact through reproductive activity. Fomite transmission is when a carrier touches an object that is later touched by a receiver (such as door handles, etc.). Vector-borne is a direct contact transmission through a carrier, such as a mosquito.
Considerations for the quarantine room
The widespread nature of this virus means for most of us, it will be a matter of when, not if, a loved one gets it. With hospitals quickly reaching capacity, the need WILL be to stay home and self-quarantine.
The following items and considerations will be needed to effectively quarantine a room and be able to tend a patient at home. Note that these considerations are to reduce/eliminate pathogen transmission. They do not include patient treatment. Isolating pathogens to this room and preventing spread to other areas is the primary objective.
Sanitation cart
A cart that can be easily moved as needed is ideal for a sanitation cart. Some people will choose to use a stationary location such as a linen closet or bathroom cabinet. Whichever is chosen, it should be easy to access and easy to determine when supplies are running low. Consider the following items for a general sanitation cart, and UNDERSTAND what items are applicable for the pathogen in question:
Antibacterial wipes.
Bleach (or other medical grade cleaner) and cheesecloth towels.
Disposable nitrile gloves.
Face shields, face masks, and safety goggles.
Biohazard and vomit bags.
Room preparation
If at all possible, the quarantine room chosen should be free of porous materials and surfaces. Cushioned furniture aside from the bed, clothing in closets, stuffed animals, papers, books, carpet, and more, should be removed or minimized. This may be well above and beyond the capability of most to do, but understand that these surfaces can harbor pathogens and are a risk to those giving care to the quarantined person.
The quarantine room should also be chosen, ideally, to have its own bathroom with shower. With water vapor, toothbrushes and toiletry needs, and human waste disposal, this bathroom is a significant source of pathogen transmission.
Quarantining aerosol pathogens
This is the hardest thing to accomplish, as airborne pathogens can become direct contact pathogens as well when contaminated particulates land on surfaces. Those items will be covered below, and this section will focus on the aerosol nature of transmission only.
Create an entry/exit barrier. In addition to the room's door, a plastic sheet hung a few feet outside the door creates a double-door barrier with an ante room space between them. This is the bare minimum necessary for effective quarantining. The care giver can gown outside the area, enter the first "door", close it, then enter the second door. This greatly reduces the pathogen's likelihood of escaping the quarantine room. When exiting, the caregiver leaves the second door, closes it, de-gowns and disposes of the gowning material inside the ante room space, then exits the first door and disposes of the gowning material.
While cleaning the quarantine room, vacuum carpet using hepafilter vacuums only, while wearing face shield, goggles, and respiration mask. This is a high risk activity that is agitating particulate matter in the room. Another alternative is to use a true steam-cleaning carpet cleaner at 170F or at least 5 minutes per surface, or 212F for 1 minute per surface.
If cleaning items in the room, minimize movement of the items, and do not shake out bedding, clothing, or other fabrics. This releases whatever pathogens were on them into the air. Aerosol transmission is the most difficult to mitigate. Do not take a direct contact item (pathogen on an object) and purposefully make it an aerosol.
If the temperature allows for it, close the vents from this room to the rest of the house. If conditions do not allow for it, add filtration and UV irradiation as necessary.
Install cold air return filters in the quarantine room and bathroom. Filters are rated with a "MERV" value, and a MERV value of 13-16 are medical grade that block bacteria, most dusts and aerosols, and suspended water droplets. Well ahead of needing this room, install a cold air return register than accepts these filters.
For the furnace filter, install a filter with at least a MERV rating of 9-12, but 13-16 is better. By the time a pathogen has gotten to the furnace, it will have traveled several yards or more. Most pathogens cannot survive an extended period of time in open air, and between the cold air return filter, the distance to the furnace, and the furnace filter, there is little chance of a pathogen being redistributed into the house's HVAC system. These filters are an excellent preparedness item to stock up on before they are needed, and kept in their sealed packaging until needed.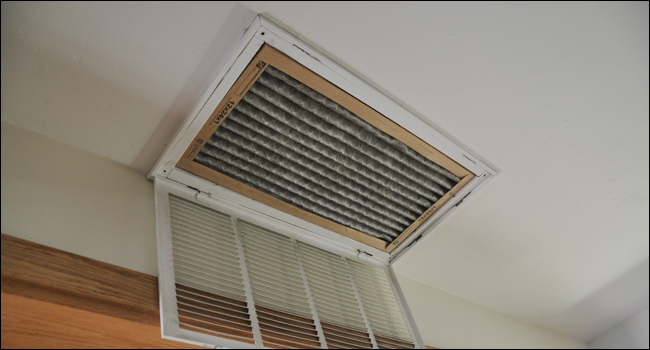 Portable air filters that use filtration (not ozone) can help, but one must purchase the correct filters (HEPA only, not "HEPA style"), change the filters as indicated (they can get expensive), and actually leave it running.
Another excellent means of air filtration is an Ultraviolet furnace insert. These high intensity ultraviolet bulbs are excellent to destroy virus, bacteria, and mold, with the added benefit of reducing maintenance for mold on AC coils, etc. They can be expensive, but this is one of the more certain ways one can ensure air returning to the rest of the house is virus-free.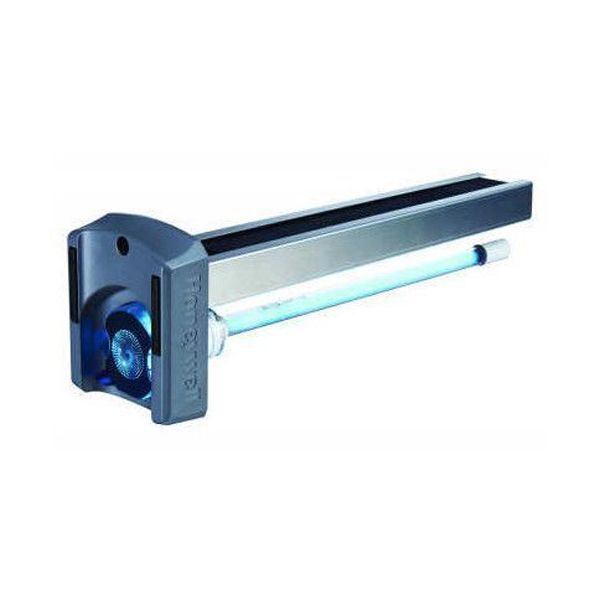 Quarantining direct contact pathogens
By creating a quarantine room, an attempt is being made to limit direct contact to one area only. Regular cleaning in this room is required, and wiping down all flat surfaces regularly with antiseptic cleaner is an important first step in minimizing direct contact transmission. Here are a few other tips:
Be prepared to dispose of everything: The clothes in this room, the cot/bed, blankets, books, TV Remote, etc., can all hold a pathogen. While a pathogen may not live on a surface for very long, porous surfaces can hold enough contaminant to allow a pathogen to live long enough for transmission. It may not come to this, but be prepared for this.
Learn to degown in the correct way so that degowning does not create an exposure. Have waste bags available for disposed of gowning.
Any eating utensils and serving ware should be immersed in a tub with bleach concentration, fastened with a lid, and removed to the house's kitchen area.
Read, understand, and practice the surface decontamination methods for the cleaners you are using. Lysol disinfectant sprayed on a surface requires TWO MINUTES to be fully effective. This is very different than the typical wipe on / wipe off method most people use for cleaning.
Wear a face mask and goggles when dealing with all things in this room. It will help with instinctually touching face and eyes.
Quarantining oral/ingested contact pathogens
For quarantining, an important objective is to ensure food items and eating utensils do not pose a threat to those that use them subsequently. For best results, dedicate a set of utensils to the infected person and wash them separately. If this is unmanageable, soak the utensils and serving items in a basin with 1 tablespoon bleach per 1 gallon water for at least 2 minutes after all extra food material has been rinsed or scrubbed away. After that, run in the dishwasher with the highest heat setting available.
Cleaning kitchen sponges, washclothes, and more can be done by soaking in the same bleach concentration, then rinsing well, putting on a microwave safe plate, then microwaving the items for 2 minutes on high. Ensure there are no metallic strands or abrasion materials in the cleaning supplies when doing so.
Another important factor to consider is preparing foods in a clean way. First, ensure that the food preparer is not ill. Notrile glove, mask, and eye protection are excellent means to prevent contamination of food items, as is minimizing the handling of packaging and subsequent handling of the food item.
For cooked items reaching high heat, they will be pathogen free after heating up provided the heating goes above 170F for at least 5 minutes (assuming the heat has time to transfer throughout the food so that all areas of the food are 170F for at least 5 minutes). The very best practice one can do is to minimize direct contact with the food after heating.
Conclusion
Not all the above items will be affordable or even necessary depending on the pathogen that is being quarantined against. Nor should the above take the place of medical professional practices. This article should be seen as things to consider, and best practices to thoroughly research and enact.
Our very best option is to self-distance and prevent getting this virus in the first place.