I regularly watch several Facebook pages for new ideas and information around protection and preparedness. I pick up a new idea from these pages maybe once a month. More usefully, I can see what the 'popular knowledge' items of the day are. This knowledge is usually more 'popular' than it is 'knowledge'. It's important to know what misinformation there is out there and have the ability to correct it.
In the past week, I've seen the following myths perpetuated as "it is known" information. More sad that this information being passed on at all is the diligent devotion the ill-informed have towards it. Let's look at some myths that need to go away.
Myth: The shotgun is the ultimate home defense gun
The shotgun is popular because many homes used to have shotguns. With different loads, you could drop a deer, hunt bird, and even deal with nuisance animals. But just because it was popular does not mean it is 'ultimate' in a home defense role. It was widely available, and pressed into protection-intent service in earlier days, just like a hatchet was pressed into service as a hand weapon (though the sword is a superior fighting weapon).
Despite its popularity, the shotgun is a subpar home defense gun.
This is not to say the shotgun isn't effective. It is versatile and deadly. But if you're putting your life and your family's life as the consequence, do you want a versatile weapon pressed into service as a defensive gun, or do you want the ultimate defensive gun there is? Let's look at some measurables for the shotgun, the AR-15, and a 9mm semiautomatic pistol.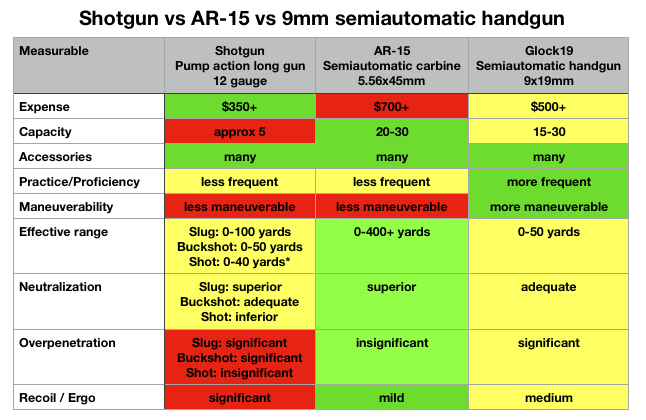 In the above table, the shotgun suffers in recoil intensity, ammunition capacity, and overpenetration (for defensive loads). Long guns tend to be less maneuverable that the handgun. In reality, the shotgun has two things going for it the others do not: price and versatility.
Myth: You don't even need to aim
The shotgun uses ammunition called a shotshell. This is a brass base with a (usually plastic) hull. The shell contains the primer and gunpowder like other cartridges. There is then a wad, separating the powder from the projectiles. The projectiles are either one large mass (a slug), a few large spherical balls (buckshot), or many small spherical balls (birdshot).
The only home defense loads that have reliable stopping power is buckshot and slugs. There are proponents of heavier birdshot, but penetration from these shells are not reliable and should not be used.
When fired, multi-projectile loads start to disperse, creating what is called a 'shot pattern'. For bird shot from a 12 gauge, The "you don't need to aim" crowd uses a birdshot dispersal pattern approximating 1 inch of spread per yard of travel. In truth, the pattern is not quite linear like that. Using this generalization, a home defense encounter of 10 yards will yield a 10″ pattern. Despite the myth, a spread such as this still requires aiming. For more realistic defensive distances of 5 yards with an estimated 5″ spread, aiming is absolutely required.
Myth: The ole switcharoo
This is my favorite part of the shotgun myth. The people that say "You don't even have to aim" use birdshot dispersal pattern as their justification for this claim. When it is suggested that birdshot is not an effective threat neutralization load, they switch to "well a slug will take care of anything". Yes, it's true that a slug will take care of anything, but it is a single mass of lead, just like a bullet.
The "you don't need to aim" crowd switches their logic from inferior birdshot neutralization to the superb stopping power of a slug without dropping the "you don't need to aim" argument!
At some point in the shotgun, there will either be a slug or shot. When that shot goes off, the advantages/disadvantages of that load will be at play. There will either be some dispersal (shot) with insufficient threat neutralization, OR there will be no dispersal (slug) with superior threat neutralization. The same round cannot have both.
Myth: If you walk into a room and cycle the pump, criminal will wet themselves
It is true that, when faced with an armed protector, criminals will realize that their actions have consequence. No one prefers armed prey. This being said, relying on the noise of a firearm's action as a deterrent is not an effective means of protection.
I had a person say "if you walk into a room with a shotgun and pump it, the criminal will flee." My replies were as follows:
Why did you enter a room with a known home invader on an empty chamber? Wouldn't you cycle the action while you have cover/concealment from another room? Would you really go confront when barricading might be the better option?
Can you guarantee they'll flee? The only real guarantee is they will respond in some way. Is it fight, flight, freeze, posture, or submit? You do NOT actually know. If you bank on them fleeing and they rush you, that's very different.
If you believe in pump-noising a home invader, will you have the muzzle covering the target or will you do the whole movie-scene pump holding the shotgun diagonally in front of your torso? Because if you don't have the muzzle on target, and bad guy decides to charge you, at home defense distances there is a very real chance he will close the distance before you shoulder that shotgun and get the muzzle on target. You will be secure in your bravado and his charge will be complete before you get through the OODA loop that you are not the master of your domain.
The reality of the situation is the shotgun itself, the projectile, and the willingness to effectively wield it is the only reliable deterrent in the system. Relying on the pump action's noise, the bravado around cycling the action, or a plucky attitude are all 100% unreliable methods of protection.
Myth: Muh Taurus Judge
While not a shotgun technically, a disturbing percentage of fuddlore exists around the Taurus Judge. This revolver is chambered in .45 Long Colt and can accommodate the .410 shotgun cartridge. The .410 is an inadequate shotgun cartridge for home defense. The cartridge was designed in 1857 as a "garden gun" suitable for pests such as snakes and vegetable-robbing varmint. Proponents of the Taurus Judge claim shotgun-like power from a handgun, while not understanding that the .410 shotgun shell loaded with a slug has 1/3 the muzzle energy of a 12 gauge.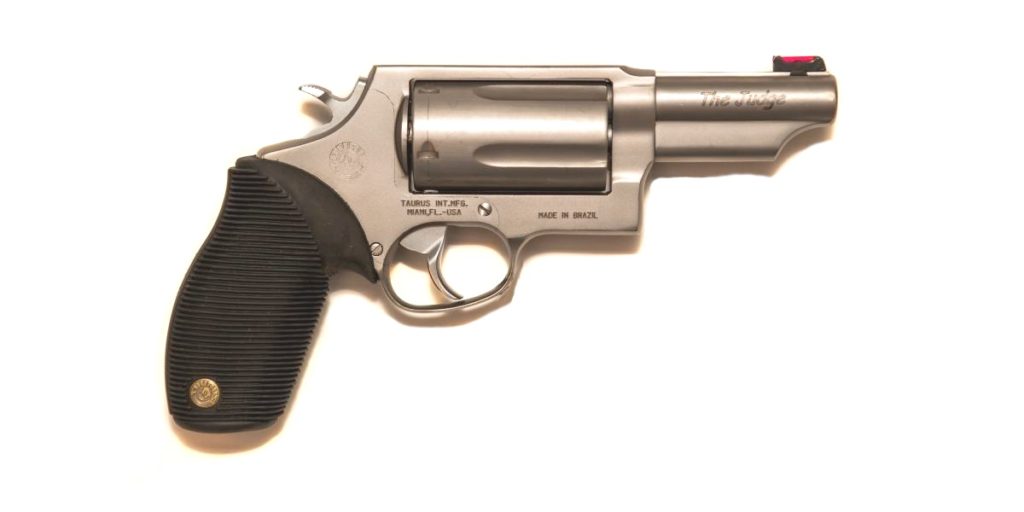 The misunderstanding around the Taurus Judge is that it brings the advantages of the handgun to the versatility of a shotgun. In truth, it does nothing of the sort. The firearm is expensive, there is no capacity advantage, it does have improved mobility, its effective range is even less than that of a 12 gauge, it has poor threat neutralization power (in fact, the .45 Long Colt cartridge would be a superior defensive load than the .410 slug), and has significant recoil. This option takes away any advantage a 12 gauge pump would have had.
Conclusion
Before folks get too up in arms over this article, yes, a shotgun is an effective threat neutralization weapon. It is cheap, it is versatile, and it is readily available. But again, as was asked in the intro: If you're putting your life and your family's life as the consequence, do you want a versatile weapon pressed into service as a defensive gun, or do you want the ultimate defensive gun there is?
If the shotgun is what's available, it can be pressed into this role. If you have the means to select a purpose-driven platform for defense, the shotgun fills the role poorly compared to other choices.